Free training sessions for beginners
Nothing to Pay!
Nothing to Lose – Everything to Gain
If you are not sure if the deadly art of jujitsu is for you, then come along and try it out for one week, train for FREE, without having to pay a penny. 
You will learn some astonishing truly self-defence skills. We will also teach you how to fight on the ground. You have nothing to lose and everything to gain. Choosing to train with us could be the first step that will totally change your life. This is the perfect way to try this kind of training without paying a penny for the privilege.
The videos below show the techniques that beginners learn in order to get their first belt as well as a video showing more advanced techniques.
Suitable for Men Women and Kids!
Jujitsu is the martial art of choice for Women's Self Defence and is suited to children wanting to learn safe defensive skills. In the kids class, children are given help and advice on how to avoid being bullied.
It is suitable for all ages, from 7 to 70+ years. You have nothing to lose and everything to gain. Choosing to train with us could be the first step that will totally change your life.
The training is fun, both students and instructors are always helpful, courteous and friendly, and you will definitely make some real friends.
Free class to get started with us.
This free trial week is designed to help you take the first step towards your Jiu-Jitsu journey with us.
Everyone is welcome to come and try a class regardless of your experience level.
While there, we encourage you to speak with others and get their opinions about our style. We are a friendly and chatty bunch of Ninjas so don't be surprised if we make you feel right at home at your first visit!
What to Expect
Arrive 10 minutes before the start time and introduce yourself to the instructor
You will take part in a 60-min (approx) Jiu-Jitsu Class with stretches, warm-ups, and some introductory techniques.
After the class, the instructor will answer any questions you may have and tell you a little more about the way we operate
What to Wear
Comfortable T-shirts, gym shorts and jogging pants are fine.
Make sure your finger and toenails are clean and trimmed and that your hygiene is up to scratch. Long hair is best worn in a ponytail.
You should also remove or tape up any piercings to prevent injuries.
Scroll left to see more
Latest News
Total Self Defence
Top International Chief Instructors
Steve McDade is an instructor of international repute and is a founding member of TSD, having trained for over 40 years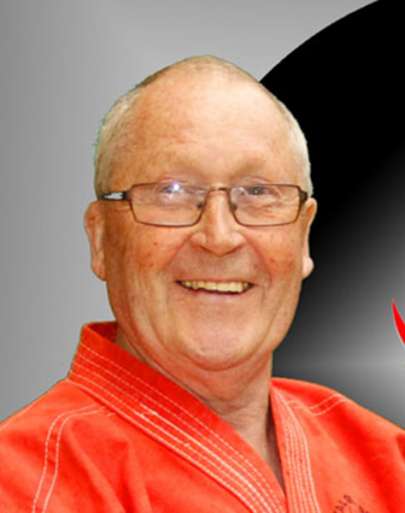 Jim McDade is an instructor of international repute and is a founding member of TSD, having trained for over 60 years
TSD Ju-Jitsu is a martial arts club established in the 1980s, providing quality martial arts instruction to adults and children in North London and Hertfordshire. The style we teach is based on traditional Japanese Ju-Jitsu, which has been modernised to include effective self-defence for city streets.

Our syllabus is very broad-based, as jujitsu was the original 'mixed martial art' before that term existed. You will have the opportunity to learn devastating throws, powerful kicks and punches, and methods of controlling and subduing an aggressor using a variety of joint locks, chokes and strangles. You will also learn techniques to fight and defend yourself on the ground. All in a totally safe, controlled and co-operative environment.

Once you reach black belt level traditional Japanese weapons are taught including katana, bo, nunchaku, kama, tonfa and more.

Absolutely not. In fact, you may pick up our techniques faster as you will have no pre-conceived ideas from training in other styles. We will introduce you gently and gradually to the syllabus, which is designed to have an appropriate learning curve for absolute beginners.

Remember, even our black belts were beginners once! Many of our current students have done or continue to train in other arts, but equally, many come to us as absolute beginners.

We have taught people from the age of 5 years, up to students 70+ years. Several of our black belts have done black belt gradings in their fifties and sixties, so no, you aren't!

Jujitsu is one of THE BEST martial arts you can learn as a female or smaller person. We have had several female instructors and many female students over the years. As Ju Jitsu uses leverage, timing and the laws of physics to overcome an opponent instead of brute strength, it is ideal for smaller, lighter people and for women's self-defence.

Definitely not. We're not that kind of club! We foster an atmosphere of friendliness and co-operation, and all our senior students are expected to help out our beginners. They are normal people like you, who have just been training a bit longer.

Please get in touch with us before your first (free) session so we can answer your questions and advise you when to come along.

Most classes are lead and overseen by either Sensei Steve McDade 8th Dan or Sensei Ibush 5th Dan. Our main instructors are NVQ qualified, first aid trained, insured and Enhanced DBS checked.

Jujitsu is an incredibly safe sport, even though we are practising potentially dangerous techniques. We instil safe training practices, with every member taking responsibility for their safety and that of their training partner.

Injuries are very rare, but as with all sport, there is an element of risk. We have a good safety track record and find jujitsu to be much safer than team sports such as football, rugby etc.

For your first session, you just need to wear a T-shirt and shorts or tracksuit bottoms. Please remove or tape over any piercings and remove jewellery and watches, for your own and your partner's safety.

If you've previously done another martial art and have a uniform, feel free to wear that. Once you join as a member, you can order a club gi (uniform) from your instructor.