One to one jujitsu Training
Private Tuition
One to one training
Kyoshi Stephen McDade 8th Dan is one of the most highly experienced and highly qualified martial arts and self-defence instructors in the United Kingdom. He is an instructor of worldwide renown. He has over 40 years of experience in self-defence and became a registered Black Belt Instructor in 1983. He holds many coaching qualifications from governing bodies all around the world he is also NVQ qualified (City & Guilds) in martial arts and self-defence management and is fully CRB (Criminal Records Bureau) checked.
Private classes are available at private venues and are available to Total Self Defence members, corporate clients, and the general public.
He has taught self defence techniques to armed forces worldwide, police tactical units, and security forces.
Private Tuition Fees
A private class can be 1-4 persons maximum
Group classes are 5 to 15 students
Specified venue preferred (equipment matted safety area etc included)
£80.00/hour up to 4 clients
Classes with more than four are charged £10/hour/extra student
Minimum hourly charge £80
Private Tuition May Suit You
A busy professional that does not have the time to commit to regular classes and would like to still take a course in self-defence or may wish to go through the total self-defence syllabus privately with some friends or colleagues. Classes can be specifically tailored to your needs.
Previous clients include; police officers, traffic wardens, underground staff, taxi drivers, nurses etc.
Tailor-Made Self Defence Tuition
Learn some jawdropping self-defence techniques that could save your life.
All women groups- Self-Defence & Self Awareness
Advanced training  for senior Instructors
Grading preparation classes
Classes in self-defence against weapon attacks
Self-defence for children (minimum age 8 years)
Control and Restraining (very good for security sector)
Traditional weapons – Tonfa, Bo, Sai, Nunchaku Short Stick
Ground defence – vital in all self-defence situations.
Scroll left to see more
Latest News
TSD Ju-Jitsu is a martial arts club established in the 1980s, providing quality martial arts instruction to adults and children in North London and Hertfordshire. The style we teach is based on traditional Japanese Ju-Jitsu, which has been modernised to include effective self-defence for city streets.

Our syllabus is very broad-based, as jujitsu was the original 'mixed martial art' before that term existed. You will have the opportunity to learn devastating throws, powerful kicks and punches, and methods of controlling and subduing an aggressor using a variety of joint locks, chokes and strangles. You will also learn techniques to fight and defend yourself on the ground. All in a totally safe, controlled and co-operative environment.

Once you reach black belt level traditional Japanese weapons are taught including katana, bo, nunchaku, kama, tonfa and more.

Absolutely not. In fact, you may pick up our techniques faster as you will have no pre-conceived ideas from training in other styles. We will introduce you gently and gradually to the syllabus, which is designed to have an appropriate learning curve for absolute beginners.

Remember, even our black belts were beginners once! Many of our current students have done or continue to train in other arts, but equally, many come to us as absolute beginners.

We have taught people from the age of 5 years, up to students 70+ years. Several of our black belts have done black belt gradings in their fifties and sixties, so no, you aren't!

Jujitsu is one of THE BEST martial arts you can learn as a female or smaller person. We have had several female instructors and many female students over the years. As Ju Jitsu uses leverage, timing and the laws of physics to overcome an opponent instead of brute strength, it is ideal for smaller, lighter people and for women's self-defence.

Definitely not. We're not that kind of club! We foster an atmosphere of friendliness and co-operation, and all our senior students are expected to help out our beginners. They are normal people like you, who have just been training a bit longer.

Please get in touch with us before your first (free) session so we can answer your questions and advise you when to come along.

Most classes are lead and overseen by either Sensei Steve McDade 8th Dan or Sensei Ibush 5th Dan. Our main instructors are NVQ qualified, first aid trained, insured and Enhanced DBS checked.

Jujitsu is an incredibly safe sport, even though we are practising potentially dangerous techniques. We instil safe training practices, with every member taking responsibility for their safety and that of their training partner.

Injuries are very rare, but as with all sport, there is an element of risk. We have a good safety track record and find jujitsu to be much safer than team sports such as football, rugby etc.

For your first session, you just need to wear a T-shirt and shorts or tracksuit bottoms. Please remove or tape over any piercings and remove jewellery and watches, for your own and your partner's safety.

If you've previously done another martial art and have a uniform, feel free to wear that. Once you join as a member, you can order a club gi (uniform) from your instructor.
Total Self Defence
Top International Chief Instructors
Steve McDade is an instructor of international repute and is a founding member of TSD, having trained for over 40 years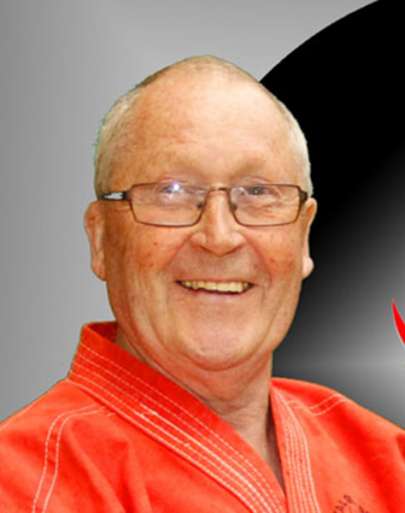 Jim McDade is an instructor of international repute and is a founding member of TSD, having trained for over 60 years